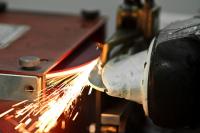 In business since 1942, and in Orléans since 1991, Houle Sports moved in 2018 to its new 11,000 square foot location at 2055 Tenth Line Rd, corner of Innes Rd.
Houle Sports has built a solid reputation in the fields of hockey, soccer, baseball and bicycles. Furthermore, owners Pierre Thibaudeau and Randy Graham, both long time residents of Orléans, are deeply involved in their community.
Houle Sports is also the official supplier and proud partner of various sports associations, schools and other organizations.